Hoffmann, Josef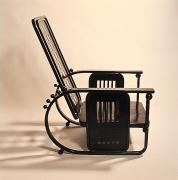 © Copyright
Josef Hoffmann, Sitzmaschine, chair, around 1905
---
Hoffmann, Josef, b. Brtnice, Czech Republic (then Pirnitz), Dec. 15, 1870, d. Vienna, May 7, 1956, architect and designer of consumer goods. 1892-1895 studied at the Academy of Fine Arts in Vienna under Baron C. Hasenauer and O. Wagner; it was in Wagner's studio that H. started his career (assisted in the work on the Vienna city railway). In 1897 one of the founders of the Vienna Secession, he and J. M. Olbrich were its leading architects (design of exhibitions and of the interior). 1899-1937 taught at the Vienna School of Arts and Crafts. In 1903, together with F. Waerndorfer and K. Moser H. founded the Wiener Werkstätte, which played a leading role in Austrian arts and crafts until it had to be closed down in 1932 because of financial problems. In 1912 H. founded the Austrian Werkbund association which he belonged to until 1920. His most significant monumental works are the sanatorium in Purkersdorf, Lower Austria, (1903-1905, 1927) and the Palais Stoclet (1905-1911) in Brussels. In Vienna H. designed many grand houses, e.g. in the exclusive residential districts of Hohe Warte and Kaasgraben (both in the 19th district of Vienna) and the Werkbund residential estate in the 13th district of Vienna. Many municipal housing complexes (some jointly with other architects) are also by him, incl. Klosehof in the 19th district of Vienna and Winarskyhof (with P. Behrens, J. Frank, O. Strnad and O. Wlach) in the 20th district of Vienna. H. also designed the interior of the Fledermaus revue theatre (1909), the Austrian state press (1909) and the Grabencafé (1912). The square is a commonly recurring motif in his work. H. was the pioneer of Viennese art nouveau, during the early years of the century he produced radical forms reminiscent of the abstract Cubist style, later changing to more moderate forms and finally he used classical elements - as was typical for his generation (Villa Skywa-Primavesi, 1913-1915); also introduced some elements of art deco. Awarded the Grand Austrian State Prize in 1950.
---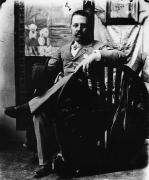 © Copyright
Josef Hoffmann in Kolo Moser's studio. Photo.
---
Literature: E. F. Sekler, J. H. Das architektonische Werk, 1982.
---
References to other albums:

---