Hansen, Theophil Freiherr von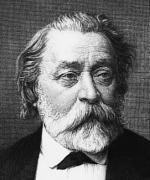 © Copyright
Baron Theophil von Hansen, engraving
---
Hansen, Baron Theophil, b. Copenhagen (Denmark), July 13, 1813, d. Vienna, Feb. 17, 1891, architect. While studying he was strongly influenced by C. F. Schinkel. Spent many years working in Athens, moved to Vienna in 1846, working first with L. Försters, later independently, to become one of the main advocates of late Romanticism. He preferred a Byzantine hybrid style (Military Museum in the Arsenal, 1856, Museum of Military History). Around 1859 created the "Wiener Stil", a neo-Renaissance style with austere classical aspects, to which he later added monumental total work of art characteristics (building of the Gesellschaft der Musikfreunde in Wien in Vienna, 1870). His buildings along the Ringstraße, especially the Parliament, 1874-1883, (in which he had intended to incorporate different colours) and the town palaces with their disciplined magnificence symbolise the climax of the austere architectural style during Viennese Historicism and are a reminder of the leading role Austria played in the field of architecture. H. preferred to work with artists who adapted to his dictates of form (C. Rahl, V. Pilz). He had a number of great students (H. Auer, E. Ziller, G. Niemann, and even O. Wagner worked with him). From 1868 at the Academy in Vienna, he emphasised classification according to style.
---
Other works incl.: Vienna: Protestant church at Matzleinsdorf cemetery, 1858; Protestant School, 1859-1862; Heinrichhof, 1860-1862 (destroyed 1945); Palais Erzherzog Wilhelm (Hoch- und Deutschmeisterpalais, now The OPEC Fund for International Development), 1864-1868; Palais Epstein, 1868-1872 (in co-operation with O. Wagner); Börse (stock exchange), 1870-1877 (in co-operation with C. Tietz); Academy of Fine Arts, 1871-1876. - Lower Austria: Schloß Hernstein, 1856. - Athens: Zappeion, 1845; Academy of Sciences, 1856. - Collaboration in creating monuments (e.g. Schubert´s monument in Vienna, 1872).
Literature: G. Niemann and F. v. Feldegg, T. H. und sein Werk, 1893; R. Wagner-Rieger and M. Reissberger, T. v. H. (Die Wr. Ringstraße VIII, 4), 1980.
---
References to other albums:

---