Völkermarkt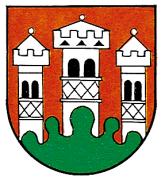 © Copyright
Coat of arms of Völkermarkt.
---
Völkermarkt, Carinthia, town in the district of Völkermarkt, alt. 462 m, pop. 11,081, area 137.35 km2, lying north of Völkermarkt storage lake on the river Drau/Drava, at the eastern edge of the Klagenfurt Basin. - District Commission, district court, Employment Services, surveying office, offices of the Chambers of Labour, of the Economic Chambers, of the Berufsförderungsinstitut (BFI) and of the Wirtschaftsförderungsinstitut (WIFI), office of the Chamber of Agriculture and Forestry, regional health insurance agency, welfare assistance centre, therapy centre, school psychological service, town museum (documentation of the Carinthian Resistance Movement and the Carinthian Plebiscite of 1920), town library, depot of the regional office for torrent and avalanche control, Hungarian Consulate, Swiss Consular Agency; schools: Bundesgymnasium and Bundesrealgymnasium secondary schools, commercial school, vocational school, Goldbrunnhof agricultural trade school, convent of the Schulschwestern religious educational order. Regional headquarters of the KELAG electricity utility, Völkermarkt and Obersielach power substations. Around 59% of the 3,534 gainfully employed persons (1991) work in the service sector; production: concrete construction, precision mechanics industry, machine building, new industrial park (large number of enterprises, e.g. label production); summer tourism (38,497 overnight stays in 1992). - Documented between 1105 and 1126 as "Volchimercatus", since 1254 documented as a town, town status renewed in 1342, economic and political peak in the 15th century; remains of town´s defensive structures (escarpment walls and circular tower); town parish church (1240-1247, alteration in the 2nd half of the 15th century) with west towers, late Romanesque core and portal from the same period, late Gothic frescoes (15th and 16th centuries), Baroque high altar (around 1730) and Virgin Mary altar with carved statues, Gothic stone pietà (early 15th century), Gothic stone Virgin (2nd quarter of the 14th century), late Gothic lantern in front of the church (1477); parish church of St. Ruprecht (11th to 12th century, renovations in the 18th and 19th centuries), Romanesque chancel tower, Baroque high altar, Romanesque ossuary with early Gothic chancel; old town hall (1499); Trinity column (1715) on the main square; houses with 16th -century central structure and Biedermeier façades; Kohlhof Palace outside the town (16th century, altered in the 19th century); provost´s estate in the cadastral municipality of Tainach (17th century), church with late Gothic core in Tainach (murals from 1423); filial church of St. Agnes with Gothic murals and vault paintings (14th century), ossuary (13th century), Baroque high altar (around 1740); parish church in St. Margarethen ob Töllerberg (1st half of the 16th century), winged altarpiece and Virgin on the Crescent (both around 1520); parish church of St. Peter am Wallerberg (1888-1893); ruins of Waisenberg Castle, Gothic structures including a tower, circumvallation and main living quarters of the medieval castle; Töllerberg castle (16th century) with Baroque stuccowork and murals; Frankenstein castle (re-built after 1797); late Gothic parish church (fortified church) with late Gothic chancel, Baroque high altar (1673) and late Gothic Lenten veil displayed between chancel and nave (1504) in the cadastral municipality of Haimburg (documented mention in 1272), ruins of the Gothic and Baroque castle of the Counts of Heunburg (until 1322) and of Rauterburg Castle, Thalenstein Castle west of Haimburg (originally from the 15th century, modern building from the 18th century).
---
Literature: Stadtgemeinde Völkermarkt. (ed.), 700 Jahre Stadt Völkermarkt, 1953; K. Wit, Völkermarkt. Chronik der Großgemeinde, 1980; E. J. Kolleritsch, Zur sozioökonomischen Entwicklung des S-Kärntner Bez. Völkermarkt, master´s thesis, Vienna 1987.
---