Schikaneder, Emanuel eigentlich Johann Joseph Schickeneder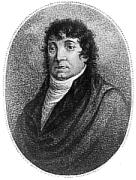 © Copyright
Emanuel Schikaneder, engraving by P. Richter
---
Schikaneder, Emanuel (real name: Johann Joseph Schickeneder), b. Straubing (Germany), Sept. 1, 1751 d. Vienna, Sept. 21, 1812. Actor, singer, producer, dramatist and theatre manager. 1773 debut as a comedian in the theatre company Moser Schauspielgesellschaft, 1778 its manager. In 1780 he came to Salzburg with this company, where he met W. A. Mozart; in 1785 he rented the Kärntnertortheater in Vienna for a short time and acted at the Hofburgtheater in 1785/86; after emperor Joseph II refused to have a theatre built on the glacis, the open space outside the city walls, left for Regensburg in 1787; returning to Vienna in 1789 he directed the Freihaustheater auf der Wieden and among other things staged numerous comedies and operas; in 1791 he acted as Papageno in the première of Mozart´s Magic Flute at the Freihaus theatre, for which he had written the libretto. In 1801 he opened the Theater an der Wien, of which he was artistic director until 1806, with a short break, and where he also worked as an actor and house dramatist. 1807-1909 he directed the Brünner Theater; in 1811 he returned to Vienna via Steyr and died there impoverished and in mental derangement. He wrote a total of 44 libretti for operas and lyrical dramas as well as 55 plays (9 of them with music). His work constituted a transition from the plays of the Viennese Hanswurst comedies to the dramatic works of F. Raimund and J. Nestroy.
---
Edition: Sämmtl. theatral. Werke, 2 vols, 1892.
Literature: E. Komorzynski, Der Vater der Zauberflöte, 1948; idem, E. S., 31951; A. Bauer, Opern und Operetten in Wien, 1955; W. Pfannkuch, E. S., 1963; K. Honolka, Papageno. E. S. Der große Theatermann der Mozart-Zeit, 1984; M. Kammermayer, E. S. und seine Zeit, 1992; A. Sonnek, E. S., 1999.
---