Wagner, Otto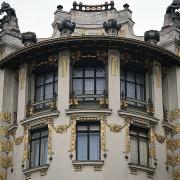 © Copyright
Otto Wagner, detail of a House in the 6th district of Vienna, Linke Wienzeile 38
---
Wagner, Otto, b. Penzing, Vienna, July 13, 1841, d. Vienna, April 11, 1918, architect and art theorist. Studied in Berlin and Vienna; then joined the circle of L. Förster and T. Hansen (for whom he designed Epstein Palace on the Ringstraße in Vienna). From 1884 Professor at the Vienna Academy. Independent from 1864, but later criticised some of his early work; the most influential Viennese architect of the late 19th and early 20th century embodying the fruitful combination of historicism and modernism. Set standards in most fields of architecture. His work was always guided by his endeavour to create a total work of art (Gesamtkunstwerk). In his early work combined late Romantic and modernist elements (Epstein Villa in Baden, 1867, synagogue in Budapest, 1873); he then developed monumental projects and large-scale urban architecture ("Artibus"). Until the 1890s preferred an impassioned even opulent Renaissance style for the Ringstraße (Ringstrasse Style). Planned the building on Schottenring 23, 1878; assisted in the Makart procession, 1879; designed the Hahn Villa in Baden, 1885; and the "big" Wagner Villa in Hütteldorf, Vienna in 1888. Participated in international competitions on numerous occasions. Later turned away from historicist style and embraced a more innovative approach with an emphasis on formal design rather than structure. Even though he strongly supported the transition to modern realism and functionalism he remained loyal to the belief that the architect, as an artist, although recognising engineering aspects must rise above simple functionalism. With his works he largely defined both Secession architecture and the basis of modernism, later to be put into practice by younger artists ("Schützenhaus" building at the weir at Kaiserbad on the Danube Canal, Vienna, 1904-1906). The housing constructions of this phase won international recognition (in Vienna the buildings on the Wienzeile, 1898, the "small" Wagner Villa, 1913). While many famous designs were not actually constructed (e.g. Academy, City Museum, Ministry of War), W. completed 3 masterpieces: the building of the Vienna City railway (1892-1901, esp. the station buildings, today the U4 line and the U6 line), the church at Steinhof (1902-1907) and the Post Office Savings Bank (1904-1906). As a teacher he founded a renowned school of architecture (J. M. Olbrich, J. Hoffmann, J. Plecnik) that continued to develop his ideas in accordance with the highest aesthetic values, but unfortunately, due to lack of financial means, could not often carry them out. His son, Otto W. the Younger, (b. Aug. 28, 1864, d. Aug. 28, 1945) was also an architect and worked mainly in Belgium.
---
© Copyright
Otto Wagner. Postcard No. 251 of the Vienna workshop "Wiener Werkstätte"
---
Publications: Einige Skizzen, Projekte und ausgeführte Bauwerke, 4 vols., 1889-1922 (reprint with an introduction by P. Haiko 1987); Moderne Architektur, 1895 (41915: Die Baukunst unserer Zeit); Die Qualität des Baukünstlers, 1912.
Literature: M. Pozzetto, Die Schule O. W., 1894-1912, 1980; H. Geretsegger and M. Peintner, O. W. 1841-1918, 21983; P. Asenbaum et al., O. W. Möbel und Innenräume, 1984; O. A. Graf, O. W., 1985ff.; I. Müller, Die O.-W.-Synagoge in Budapest, 1992; C. Benedik (ed.), Das ungebaute Wien, exhibition catalogue, Historisches Museum der Stadt Wien 1999.
---
References to other albums:

---