Strauß, Johann, Vater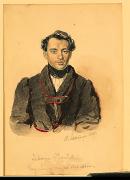 © Copyright
Johann Strauß the Elder. Water-colour by H. W. Schlesinger, 1837.
---
Strauß, Johann, the Elder, b. Vienna, March 14, 1804, d. Vienna, Sept. 25, 1849, important composer, violinist and musical director of the Biedermeier period, father of Johann Strauß the Younger, Josef Strauß and Eduard Strauß. He and J. Lanner created a new form of the waltz, the Viennese waltz, which developed into the most popular dance of the era. Started as a member of the dance orchestra of M. Pamer, where he met J. Lanner, whose orchestra he joined in 1819. 1825 founded his own dance band, which he expanded to a large orchestra and with which he embarked on concert tours to Germany, Paris and London from 1833 onwards; 1846 appointed Director of the Imperial Court Balls, a title especially created for him. His "Radetzky March" is popular to this day.
---
Works: 152 waltzes, 32 quadrilles, 24 galops, 18 marches, 13 polkas.
Literature: A. Witeschnik, Die Dynastie Strauß, 1958; J. Eduard, Johann Strauß Vater und Sohn, 1960; F. Endler, Das Walzer-Buch, 1975; M. Schönherr, Lanner, Strauß, Ziehrer, 1982; P. Prange, Die Strauß-Dynastie, 1991; N. Linke, "Es muß einem was einfallen", 1992.
---
References to other albums:

---