Schober, Franz Adolf Friedrich von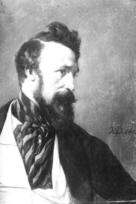 © Copyright
Franz von Schober. Painting by J. Danhauser, around 1835.
---
Schober, Franz (Adolf Friedrich) von, b. Torup Castle near Malmö (Sweden), May 17, 1798, d. Dresden (Germany), Sept. 13, 1882. Poet and librettist. Austrian mother, lived in Vienna from 1808 and became a member of the circle of friends of F. Schubert, who set some of his poems to music; S. also wrote the libretto of the latter's opera "Alfonso and Estrella" (1823). 1839-1947 private secretary to F. Liszt, then lived in Prague, Weimar and Dresden. Wrote sensitive poetry imitative of earlier periods.
---
Further works: Poetry: Palingenesien aus den heiligen Büchern des Alten Bundes, 1826; Gedichte, 1842.
Literature: A. Weiss, F. v. S., das Lebensbild eines Freundes Schuberts, 1907; H. Zeman, F. Schuberts Teilhabe an der österreichischen literarischen Kultur seiner Zeit, in: O. Brusatti (ed.), Schubert-Kongreß 1978, 1979.
---