Pommer, Josef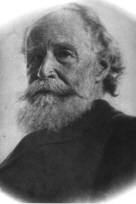 © Copyright
Josef Pommer. Photo, around 1900.
---
Pommer, Josef, b. Mürzzuschlag (Styria), Feb. 7, 1845, d. Gröbming (Styria), Nov. 25, 1918 (suicide), teacher, researcher of folk songs. Grammar school teacher in Vienna, founder of the German folk song society "Deutscher Volksgesangsverein" in Vienna (1889); from 1892 wrote about the folk song in Austria ("Flugschriften zur Kenntnis und Pflege des deutschen Volksliedes", "Das deutsche Volkslied"); made major contributions to the collection of Austrian folk songs (played a key role in the governmental project "Das Volkslied in Österreich"). Published the magazine "Volkslied, Volkstanz, Volksmusik" with R. Zoder.
---
Further works: Liederbuch für die Deutschen in Ö., 1884; Jodler und Juchezer, 1889; 252 Jodler und Juchezer, 1893; Wegweiser durch die Literatur des dt. Volksliedes, 1896; 444 Jodler und Juchezer aus Stmk., 1902; Über das älpische Volkslied ..., 1907; Blattl-Lieder, 1910.
---