Matthias, * 1557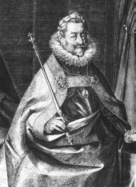 © Copyright
Kaiser Matthias. Engraving by Ä. Sadeler, 1616.
---
Matthias, b. Vienna, Feb. 24, 1557, d. Vienna, March 20, 1619, Archduke of Austria, 1612 to 1619 Emperor, 3rd son of Emperor Maximilian II, 1578 to 1581 unsuccessful Governor-General of the Netherlands during their revolt against Spain, from 1595 Governor of Austria above and below the river Enns. M. continued the Counter-Reformation as advised by M. Klesl, and had peasant rebellions put down in 1596/97. From 1599 a rival of his brother, Emperor Rudolf II, M. was recognized by the Archdukes as the new head of the family in 1606. In 1608 he was granted the Austrian Danube countries, Moravia and Hungary and in 1611 Bohemia. From 1612 Emperor M. was influenced by Cardinal Klesl. Since he had no children, the Styrian line of the family (Ferdinand II) inherited the titles. M. was an open and faithful man, who was depressive in old age and suffered from gout. He and his wife Anna founded the Capuchin Vault Kapuzinergruft in Vienna as the future family burial place.
---
Literature: B. Rill, Kaiser Matthias, Bruderzwist und Glaubenskampf, 1999; NDB.
---
References to other albums:

---