Hutter, Wolfgang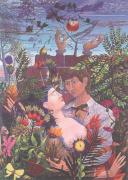 © Copyright
Wolfgang Hutter, Adam und Eva. painting, 1955 (Österreichische Galerie Belvedere, Vienna)
---
Hutter, Wolfgang, b. Vienna, Dec. 13, 1928, painter and graphic artist. 1945-1950 studied at the Academy of Fine Arts in Vienna under his father A. P. Gütersloh. Together with E. Fuchs, R. Hausner, E. Jené and F. Janschka H. founded a surrealist group within the Vienna Art Club and was a founding member of the Vienna School of Fantastic Realism". His artificial pictorial world is characterised by decorative gardens and mythical scenes worked out in painstaking detail and perfect technique. 1966-1996 lecturer, from 1974 professor at the Hochschule für angewandte Kunst (now University of Applied Arts) in Vienna.
---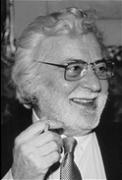 © Copyright
Wolfgang Hutter. Photo,1990.
---
Works: Theater, 1950; Tätowierungen, 1965; Ein Mädchen - fünf Hüte, 1974 (lithographies); Zauberflöte, 1974 (graphics); Die Streifenmädchen, 1976; Federmenschen, 1976 (publication); tapestries (among others for the Vienna Burgtheater); scenery for opera, ballet and theatre; mural painting / fresco in the Festspielhaus in Salzburg, 1960; iron curtain at the Stadttheater Wr. Neustadt; designs for Porzellanmanufaktur Augarten Ges. m. b. H.
Literature: O. Breicha, W. H. Werkkatalog, 21977; M. Elias (ed.), W. H. Malerei und Graphik. Arbeiten von 1948 bis 1996, exhibition catalogue, Hochschule für angewandte Kunst, Vienna 1996.
---