Felder, Cajetan Freiherr von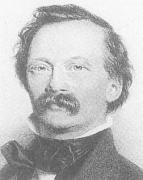 © Copyright
Baron Cajetan von Felder. Lithograph by A. Dauthage, 1861.
---
Felder, Baron Cajetan von, b. Vienna, Sept. 19, 1814, d. Vienna, Nov. 30, 1894, liberal politician, 1868-1878 Mayor of Vienna. Initiated the construction of the first Vienna Spring Water Supply System, and of the Rotunde (world exhibition building), laid the foundation stone of the New Town Hall, commissioned the regulation of the Danube, and established the Central Cemetery (Zentralfriedhof) of Vienna; 1880-1884 Land Marshal of Lower Austria. F. was at the same time a naturalist and owned an internationally known collection of beetles and butterflies, which represents the basis of today's collection of beetles and butterflies at the Tring Museum in England.
---
Publication: Erinnerungen eines Wiener Bürgermeisters, ed. by F. Czeike, 1964.
Literature: F. Czeike, Wien und seine Bürgermeister, 1974.
---