Albertina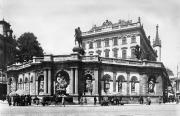 © Copyright
Albertina with Albertina Ramp, Albertina Fountain and equestrian statue of Archduke Albert. Photo, around 1930.
---
Albertina, Vienna, 1st district: Building: Built 1742-1745 as Palais Taroucca, expanded by L. Montoyer 1801-1804 under commission by Duke Albert of Sachsen-Teschen using parts of the Augustinian Monastery. The façade and the Albertina Ramp were modified in 1867 and after heavy bombing in World War II. The Reading Room and oval-shaped Minerva Hall were designed by J. Kornhäusel. The Palais now houses the Albertina Graphic Arts Collection, the music collection of the Austrian National Library, and the Austrian Film Museum Film Institutions.
Graphic Arts Collection: One of the world's leading collections of its kind, comprising around 44,000 drawings and 1.5 million prints from all regions and periods of European graphic arts, a number of them of extraordinarily high quality. From the earliest beginnings of European graphic arts around 1400 up to today, all of the great masters are very well represented in the collection. The Albertina houses a unique collection of graphic works by A. Dürer, in addition to works by Italian High Renaissance artists (Leonardo da Vinci, Michelangelo, Raphael), P. P. Rubens and Rembrandt. G. Klimt and E. Schiele are especially well represented in the collection of 20th-century art. The various special collections include architectural drawings (e.g. by Borromini and Bernini).
The Albertina is named after its founder, Duke Albert Kasimir von Sachsen-Teschen. He made his collection, which remained the private property of the inheritors to his estate (Archduke Karl) until the fall of the Austro-Hungarian monarchy, accessible to the public in 1822. After 1918 the collection was handed over to the Republic of Austria as the legal successor to aristocratic property. At that time, the valuable copper engraving collection of the Imperial Court Library was combined with the Albertina collection. The Graphic Arts Collection has been closed since 1994 due to restoration work on the building. Exhibitions are therefore held in the nearby "Akademiehof".
---
Further reading: W. Koschatzky and A. Strobl, Die Albertina in Wien, 1969; V. Birke and J. Kertész, Die italienischen Zeichnungen der Albertina, 4 vols., 1992-1997; M. Gröning and M. L. Sternath, Die deutschen und Schweizer Zeichnungen des späten 18. Jahrhunderts, 1997; B. Dossi, Albertina - Sammlungsgeschichte und Meisterwerke, 1988.
---