Mozart, Wolfgang Amadeus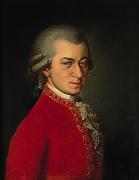 © Copyright
Wolfgang Amadeus Mozart, painting by B. Krafft (Gesellschaft der Musikfreunde in Vienna)
---
Mozart, Wolfgang Amadeus, b. Salzburg, Jan. 27, 1756, d. Vienna, Dec. 5, 1791, composer, among J. Haydn and L. van Beethoven key figure of Viennese Classicism. Received musical and general instruction from his father Leopold Mozart from the age of four. M. and his sister Maria Anna Mozart performed as infant prodigies, for the first time in 1761 in Salzburg. In January 1762 went on his first musical tour to Munich, his second (Sept. to Dec. 1762) took him to Passau, Linz and Vienna (on the occasion of which he also performed in Pressburg (Bratislava). While in Vienna also performed at the court of Maria Theresia, who was charmed by his playing and wit. From June 1763 performed in Paris and London, and for German princes. On journeys to Paris from November 1763 to April 1764 and to London in 1765 had contact with contemporary composers. In London met J. S. Bach, whose compositions impressed him very much. Meanwhile the first M. sonatas went into print in Paris. the immense success of his first musical tour to Paris, however, remained unrepeated. During his musical tours M. had begun to compose more and now aimed to establish himself as a composer in Salzburg. composed "Apollo und Hyacinthus" for Salzburg University and the first act of the oratorio "Die Schuldigkeit des ersten Gebots". During his 2nd stay in Vienna, from September 1767 to January 1769, M. presented his Orphanage mass ("Waisenhausmesse"), which was very successful, and staged "Bastien und Bastienne" in the home of the famous doctor F. A. Mesmer, but failed to impress the court. Although recommended by C. W. Gluck, the court rejected his opera buffa "La finta semplice" for production. This was first performed in 1769 in Salzburg.
After nearly one year in Salzburg, M. and his father Leopold, who had meanwhile been appointed kapellmeister by the archbishop of Salzburg, set out on extensive travels in Italy late in 1769. This, however, was no longer the musical tour of a child prodigy but a conventional concert tour of the time; M. performed in the concert halls of major cities and in the homes of the aristocracy, always hoping to receive commissions. met N. Piccini, G. B. Sammartini, Padre G. B. Martini, who highly approved of his musical performance, and the castrati C. Farinelli and G. Manzuoli. In Rome was awarded a knightship in the Order of the Golden Spur, (Gluck and C. Ditters von Dittersdorf also received honours, but lower than a knightship, from the order). In October 1770 M.´s "Mitridate, Rè di Ponto" was received with great acclaim in Milan (22 performances). In March 1771 M. returned to Salzburg with a few commissions for Padua, Venice and Milan, only to return to Italy five months later. During his stay, until December 1771, composed the oratorio "La betulia liberata" for Padua and the serenata "Ascanio in Alba" for Milan. on his third trip to Italy from October 1772 to March 1773 "Lucio Silla" was performed in Milan.
Shortly after M. returned from Italy Sigismund von Schrattenbach, Prince archbishop of Salzburg, died. His successor, Count Hieronymus Colloredo, became the new patron of the M. family and M. composed "Il sogno di Scipione" for his accession ceremony. compared to his predecessor, Hieronymus was less "baroque" in attitude and taste and a more typical representative of the Age of Enlightenment, favouring the reforms of the time.
For the next few years M. was to stay in Salzburg, except for a few trips to Vienna and Munich. during these years in Salzburg M. developed his full power of orchestration and style. He was inspired by his meeting with J. Haydn in Vienna, and the rise of Viennese Classicism. As his position in Salzburg required, M. composed church music, but there was a gradual shift in interest towards instrumental music (symphonies, concertos, serenades).
His last extensive concert tour to Paris from September 1777 to January 1779 was less successful than expected and above all overshadowed by his mother´s death on March 3, 1778. On his return, M. who had hoped for a paid position, lost his post at Salzburg after a quarrel with the archbishop. Even though his father was able to arrange for him to be readmitted to court, M.´s refusal to accept the conditions of his contract foreshadowed future conflicts. In 1780/81 M. composed "Idomeneo", a commissioned work for Munich. From March 1781 M. spent most of his time in Vienna, the conflict with the archbishop finally culminating in M.´s dismissal in June 1681.
The Vienna years proved very successful for M. As he wrote to his father, Vienna just was the place to be, and he could pick and choose his pupils. M. composed frantically, with the effect that nearly half of all his works were composed during his ten years in Vienna. He soon gained a high reputation as an organizer of concerts, sometimes for subscribers only, and also as a conductor, pianist and composer. The success of "Die Entführung aus dem Serail" in July 1782 won him a high reputation at the Vienna imperial court. In 1782, against the wishes of his father, M. married Konstanze Weber, the younger sister of his first love Aloysia. The relationship between father and son had been troubled ever since M.´s dismissal in Salzburg. Over the next three years M. composed piano and chamber music, including the famous six string quartets dedicated to J. Haydn, and the piano concertos which proved especially popular in Vienna.
From 1784/85 M. worked with the librettist Lorenzo Da Ponte and dedicated most of his energies to composing operas. "Le Nozze di Figaro", composed in 1785/86 and "Don Giovanni", composed in 1787, were very successful in both Vienna and Prague. Around this time M. also composed his last symphonies (among them the "Jupiter" Symphony), numerous works for piano (mostly sonatas) and pieces of chamber music, among them "Eine kleine Nachtmusik" and "Musikalischer Spaß".
In November 1787 M. was employed as "Kammercompositor" to the emperor, which meant recognition as an artist, a high social reputation and, finally, a regular income. The last three years of his life (1789-1791) were artistically and financially successful. His debts grew rapidly however, as a result of M.´s spendthrift ways and his wife´s lack of financial sense. Her extensive trips to the fashionable resort Baden were only one example of the generally expensive life style that was way beyond their means. On his return from a trip through Germany with Prince Lichnowsky, M. composed "Così fan tutte", again with da Ponte. M. was honoured with a commission to compose an opera for the coronation of Leopold II in Prague. In "Titus" M. aspired to bring together the baroque tradition of the festive opera and contemporary trends, which in the eyes of the court turned out a failure. His opera "Zauberflöte" ("The Magic Flute") first staged around the same time was, however, met with acclaim.
From summer 1791 M. had not been well. In December 1791 his condition deteriorated and he died within a few days. M. could not finish the requiem commissioned by count F. Walsegg-Stuppach, and M.´s wife Konstanze commissioned J. L. von Eybler and F. X. Süßmayer to finish it. Süßmayer´s version proved more successful.
M. left two children, Karl (1784-1858), who made the Mozarteum Salzburg his universal heir, and Wolfgang (1791-1844), who became a composer, pianist and kapellmeister. M. was buried in a paupers´ grave (in accordance with the regulations of the time) in St. Marx cemetery. Later, the exact position of his grave could not be located exactly, so a grave stone was erected in the section of the Zentralfriedhof among the graves of honour.
From his very early childhood M.´s musical talents were encouraged by his father, one of the best music teachers of his time. It was particularly his travels that inspired M. and helped him develop his full compositorial power. M. received very little traditional musical instruction and always had certain weaknesses in handling counter point. It was not until his time in Vienna that his extensive studies of G. F. Handel´s oratorios and the music of J. Haydn and G. van Swieten helped M. make up for the lack of traditional musical instruction in his youth. As with most of his contemporaries, the composing itself did not take much time. However, the long-cherished belief that M. composed "in his head" and without premeditation has been proven a myth by recent research.
M.´s musical development reflects the change in musical styles from the galant and sensitive style to the pre-classical and classical periods on the one hand and the skilful combination of French, Italian and local styles on the other, a development also evident in Haydn´s work.
Recent historical research into M.´s life has changed the traditional M. image, a myth established by Konstanze and her second husband G. Nissen, whose idealized image of M. survived well into the 20th century.
M. monuments in Salzburg (1842), Vienna (1896, by V. Tilgner, originally near the state opera, since 1955 in the Burggarten park) and Graz (Stadtpark, 1936). M. fountain (Magic Flute Fountain, 1905) in Vienna's fourth district.
---
Works: 20 dramatic works (singspiele, operas, etc.); approx. 60 symphonies; divertimenti, serenades, dances and marches for orchestra; 25 piano and 6 violin concertos, one concerto for clarinet, one for bassoon, 4 concertos for horn; numerous sonatas for piano and violin; chamber music for various scorings, among them 23 string quartets, 6 string quintets, piano trios, one quartet for wind instruments, one for clarinet; divertimenti scored for chamber music; arias and lieder; 16 masses, various pieces of church music such as litanies and motets, requiem (unfinished); 4 cantatas, 9 canons. - Editions and documentation: L. R. v. Köchel, Chronolog.-themat. Verzeichnis sämtl. Tonwerke ("Köchel-Verzeichnis" = KV), 1862 (reprints: 1905, 1937, 1958, 1963, 1964, 1965); Neue Gesamtausgabe ("Neue Mozart-Ausgabe"), ed. by E. F. Schmid, 1956-1991 (includes editions of scores, documents, letters, iconography); M. Persönlichkeit, Urteile der Zeitgenossen, ed. 1914; L. Schiedermeier, Briefe W. A. M. und seiner Familie, 1914; L. Schiedermeier, W. A. M. Handschrift ..., 1919; Konstanze M., Briefe, Aufzeichnungen, Dokumente, 1782-1842, ed. 1922; Die Briefe W. A. M., 2 vols. and 3 folders, 1942; M. Briefwechsel und Aufzeichnungen, 2 vols., 1949.
Literature: F. X. Niemetschek, Leben des k. k. Kapellmeisters W. Gottlieb M., 1798; G. N. Nissen, Biographie W. A. M., 1828; O. Jahn, W. A. M., 1856-1859, ed. by H. Abert, 61923/24; E. Schenk, W. A. M., 1955; O. E. Deutsch, M., Die Dokumente seines Lebens, 1961; O. Schneider and A. Algatzy (eds.), M.-Handbuch, 1962; W. Hildesheimer, M., 1977; S. Kunze, M. Opern, 1984; G. Gruber, M. und die Nachwelt, 1985; K. G. Fellerer, Die Kirchenmusik W. A. M., 1986; G. Gruber, M. verstehen, 1990; W. Gersthofer, Die frühen Sinfonien W. A. M., 1991; G. Knepler, W. A. M., 1991; Zaubertöne, M. in Wien, exhibition catalogue (Hist. Mus. d. Stadt Wien) 1991; R. Angermüller (ed.), In diesen heil´gen Hallen, exhibition catalogue, Salzburg 1991; H. Zeman (ed.), Wege zu M., W. A. M. in Wien und Prag - Die großen Opern, 1993; G. Gruber, W. A. M. Leben und Werk in Texten und Bildern, 1995; S. Kunze, M. Opern, 21996; H. E. Jacob and E. Distler, M., 1998.
---
References to other albums:

---