Wilbrandt, Adolf von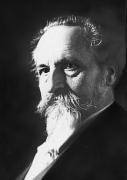 © Copyright
Adolf von Wilbrandt, photo
---
Wilbrandt, Adolf von, b. Rostock (Germany), Aug. 24, 1837, d. Rostock (Germany), June 10, 1911, dramatist, journalist, writer. Married to the actress Auguste Wilbrandt-Baudius. Manager of the Vienna Burgtheater from 1881-1887; awarded the Grillparzer Prize (1875 and 1890) and the Schiller Prize in 1877.
---
Works: Erinnerungen, 1905; Aus der Werdezeit, 1907. - Dramas, novels, novellas.
Literature: V. Klemperer, A. W., 1907; E. Scharrer-Santen, A. W. als Dramatiker, 1912; F. Horch, Das Burgtheater unter Laube und W., 1925; R. Wilbrandt, Mein Vater A. W., 1937; G. Köhler, A. W. Dramen am Burgtheater, doctoral thesis, Vienna 1970.
---