Wettstein, Richard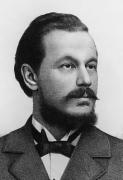 © Copyright
Richard Wettstein, lithograph, 1899
---
Wettstein, Richard, b. Vienna, June 30, 1863, d. Trins (Tyrol), Aug. 10, 1931, botanist. Introduced the phylogenetic system into botany; father of Friedrich Wettstein. Disciple and assistant of A. Kerner; 1892 Professor at the University of Prague, from 1899 at the University of Vienna. Newly laid out the botanical gardens of Vienna University and set up the building of the Department of Botany, including its museum (1905). Vice-President of the Academy of Sciences (from 1919); 1901 President of the Vienna Zoological-Botanical Society; undertook an expedition to Brazil; travelled to South and East Africa with his son Friedrich W. in 1929/30.
---
Publications: Grundzüge der geograph.-morpholog. Methode der Pflanzensystematik, 1898; Botanik und Zoologie in Österreich 1850-1900, 1901; Der Neo-Lamarckismus und seine Beziehungen zum Darwinismus, 1903; Handbuch der systematischen Botanik, 2 vols., 41934.
Literature: E. Janchen, R. W., 1933.
---