ATTENTION: For this AEIOU article, there is probably
a new version in
Austria-Forum
www.austria-forum.org

Please click here
Waldmüller, Ferdinand Georg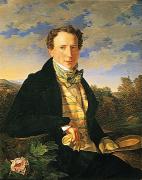 © Copyright
Ferdinand Georg Waldmüller, self-portrait at the age of 35, painting, 1828 (Österreichische Galerie Belvedere, Vienna)
---
Waldmüller, Ferdinand Georg, b. Vienna, Jan. 15, 1793, d. Hinterbrühl near Mödling (Lower Austria), Aug. 23, 1865. Painter and writer on art. Studied at the Vienna Academy and also taught himself or learned from friends. Travelled between 1814-1817 and worked as a theatre painter. Returned to Vienna and turned to portrait painting, also cultivated other genres and gradually learned to reproduce reality ("Die Mutter des Hauptmanns von Stierle-Holzmeister", 1819; self-portrait, 1828). From 1830 abandoned the French style in favour of lighter brushstrokes. From then also worked as a teacher and curator of the Academy Gallery. Reached the peak of his portrait painting ability in the 1830s (family portrait Dr. Eltz, 1835), after that he temporarily concentrated on still-life, but genre paintings and landscape paintings again became dominant. He elevated genre-painting to a new dimension by adding historical and religious elements without shying away from social criticism. At the same time he dealt with problems of light and space, based on Dutch examples and his numerous trips to Italy. His works ("Der Notverkauf", "Fronleichnamsmorgen", both 1857; "Die Klostersuppe", 1858), characterised by sharp contrast of (sun) light-shadow and dramatic arrangements are considered classics. In his later works colourful, vibrant accents were added ("Vorfrühling im Wienerwald", 1861). His brilliantly realist rather than sensitive depiction met with criticism from his contemporaries. Finally, in 1856 he achieved international recognition in London. As one of the most versatile and open-minded artists of his time, he laid important foundations for future developments, while still remaining loyal to tradition and to the old Viennese school; did not follow the ideals of impressionism. Until 1851 he taught a large number of private pupils. His professional difficulties resulted less from his innovations and reformative ideas, which he expressed in a polemic rather than argumentative manner, but much more from his unfortunate temperament and behaviour. He suffered from a need for recognition and an inferiority complex, which often led him to lose control and even become violent in private. For a long time his followers believed the role of exaggerated martyrism he had created for himself. In 1857 following attacks on the Academy he was forced into early retirement on half-pay. In 1864, as a conciliatory gesture, his pension was raised to the normal amount, but he was not reinstated.
---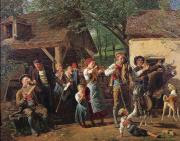 © Copyright
Ferdinand Georg Waldmüller, Die Pfändung, painting, 1847 (Historisches Museum der Stadt Wien)
---
Publications: Das Bedürfnis eines zweckmäßigeren Unterrichtes, 1846; Vorschläge zur Reform der Oesterr.-kaiserl. Akademie der bildenden Kunst, 1849; Andeutungen zur Belebung der vaterländ. bildenden Kunst, 1857.
Literature: B. Grimschitz, F. G. W., 1943; idem, F. G. W., 1957; M. Buchsbaum, F. G. W., 1976; K. A. Schröder, F. G. W., exhibition catalogue, Vienna 1990; R. Feuchtmüller, F. G. W., 1793-1865. Leben - Schriften - Werke, 1996.
---
References to other albums:

---