Voitsberg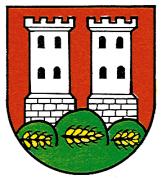 © Copyright
Coat of arms of Voitsberg.
---
Voitsberg, Styria, town in the district of Voitsberg, alt. 395 m, pop. 10,351, area 28.54 km2, in Kainach valley, near Köflach. - District Commission, district court, employment services, inland revenue office, office of the Chamber of Labour, district office of the Chamber of Agriculture and Forestry, branch office of the regional health insurance institution, school psychology information centre, sports hall, library, commercial academy, vocational school, thermal power stations Voitsberg 2 (built in 1956, 65 MW) and Voitsberg 3 (built in 1982, 330 MW); Arnstein storage power station (built in 1925, 30 MW) on River Teigitsch, district heating station, Krottendorf electric switching station, 2 distributing stations; 4,490 gainfully employed persons (1991), around half of them in the service sector; public utility enterprises, pipe and pump manufacturing, glass production, tool-making plant. - Oldest settlement around St. Margaret church at Tregistbach river (old parish church, documented mention in 1103, pulled down in 1890), re-established by Duke Leopold VI around 1200, documented as a town in 1245; remains of the medieval town fortifications (defensive wall, circular tower); town parish church (1690-1708, church of the Carmelite monastery, which was closed in 1812, Baroque interior, impressive high altar (1711) and paintings (around 1760-1770); former monastery (late 17th century); late Romanesque and Gothic church of St. Michael (documented mention in 1268); late Gothic filial church of the Precious Blood (1293); column dedicated to the Virgin Mary (1753); castle ruin Obervoitsberg (documented mention in 1183); Greisenegg palace (documented mention in 1443, converted into a country house in 1877); houses of wealthy citizens (core from the 16th and 17th centuries).
---
Literature: E. Lasnik, Rund um den Heiligen Berg. Geschichte des Bez. Voitsberg, 1982; J. Schreyer, Wirtschaftsraum Voitsberg. Probleme und Zukunftsperspektiven einer steirischen Industrie-Region, 1993; Voitsberg - eine alte Stadt und ihre Gegenwart, 1994.
---