Stubenberg, Johann Wilhelm Graf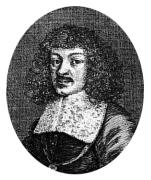 © Copyright
Count Johann Wilhelm Stubenberg. Engraving.
---
Stubenberg, Johann Wilhelm Count, b. Nové Město nad Metují, Czech Republic (then Neustadt an der Mettau), April 22 (?), 1619, d. Vienna, March 15, 1663, translator. 1642-1657 lived in Schallaburg Castle; was a Protestant. S. is considered one of the most outstanding translators of his time; translated contemporary Italian (G. F. Biondi, G. A. Marini, G. F. Loredano) and French (M. de Scudéry) novels as well as New Latin essays (F. Bacon). Strove in particular to promote acceptance of German as a literary language; member of the society "Fruchtbringende Gesellschaft" from 1648; mentor and literary patron C. R. v. Greiffenberg.
---
Literature: M. Bircher, J. W. v. S. und sein Freundeskreis, 1968.
---