Romako, Anton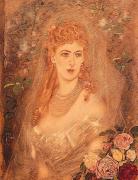 © Copyright
Anton Romako, Countess Maria Magda Kuefstein, painting, 1885/86 (Österreichische Galerie Belvedere, Vienna)
---
Romako, Anton, b. Vienna, Oct. 20, 1832, d. Vienna, March 8, 1889, painter (historical paintings, landscapes, portraits and Italian genre), studied at the Vienna Academy, in Munich under W. Kaulbach and under C. Werner in Venice, private pupil of C. Rahl in C. Rahl in Vienna; from 1857 worked in Rome, where he was the favoured painter of the resident colony of foreigners, 1876 returned to Vienna, but had no success there with his work, several journeys to Hungary, France and Italy. His early works display the influence of Biedermeier realism, while his late works are marked by a nervous style of painting anticipating early Expressionism, making R. a forerunner of Viennese Modernism.
---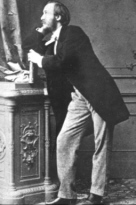 © Copyright
Anton Romako, photo around 1875
---
Literature: A. R., exhibition catalogue, Vienna 1992; ÖBL.
---