Postsparkasse AG, Österreichische, P. S. K.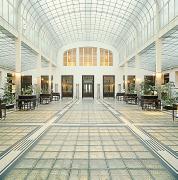 © Copyright
Postsparkasse in the 1st district in Vienna: main hall.
---
Postsparkasse AG, Österreichische, P. S. K., (Postal Savings Bank) banking institution with branches all over Austria. Founded in 1883 in Vienna, after the British model ("Post Office Savings Bank") as "k. k. Postsparcassen-Amt" by G. Coch; his aim was to popularise the idea of saving and give the general public easy access to banking transactions by using the post offices for making money deposits or withdrawing money. In 1887 the postal cheque was introduced (first form of non-cash money transactions, developed by G. Coch).
The Österreichische Postsparkasse AG was established as a national savings bank and was subordinated to the Ministry of Trade; it has been an incorporated public institution from 1926. After the annexation of Austria by Germany in 1938, the P. S. K. was subordinated to the Deutsche Reichspost. After the end of the Second World War it was integrated into the Ministry of Finance and was reopened in 1945 under the name "Postsparkassenamt". The PSK-Gesetz (Postal Savings Bank Law of 1970) reinstituted the bank as an organisationally and legally independent institution of public law. Its organisational structure was similar to that of an AG (Aktiengesellschaft) (Board of management with governor and 2 vice-governors, supervisory board and board of directors). The institution has government backing. Since 1997 the Postal Savings Bank has been operated as an Aktiengesellschaft (with board of management and supervisory board).
The most important (direct or indirect) interests are those in the P. S. K.-Bank AG Ges.m.b.H. (private and corporate customers), P. S. K. Leasing, P. S. K. Invest Kapitalanlagegesellschaft (capital investments), P. S. K. Versicherungsdienst (insurance), Postversicherung (insurance), P. S. K. Datendienst (telecommunications), Österreichische Lotterien GmbH (Austrian lottery).
The main building of the Postal Savings Bank is in the first district of Vienna and was designed and built by Otto Wagner between 1904 and 1906 and is recognised as a milestone in the history of modern architecture.
---
References to other albums:

---