Maximilian eigentlich Ferdinand Maximilian, Kaiser von Mexiko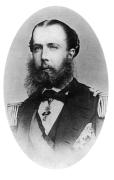 © Copyright
Emperor Maximilian of Mexico, photo
---
Maximilian (real name Ferdinand Maximilian), b. Vienna, July 6, 1832, d. Querétaro (Mexico, executed), June 19, 1867, brother of Emperor Franz Joseph I; 1854 Supreme Commander of the Naval Forces, 1857 to 1859 Governor-General of the Kingdom of Lombardy and Venetia; accepted in 1864 an offer made by clerical and conservative notables and, supported by French troops, made himself Emperor of Mexico. After the French had left, he was defeated in the civil war against the republican government, was imprisoned and executed. His wife Charlotte (of Belgium), who had supported this adventure, lost her mind. M. was an important collector and patron of the sciences and arts and even wrote literary works (with the assistance of E. Binzer and F. Halm).
---
Work: Aus meinem Leben, 7 vols., 1867.
Literature: M. von Mexiko, exhibition catalogue, Hardegg 1974; B. Hamann, Mit Kaiser Max in Mexiko, 1983; H. A. Vogelsberger, Kaiser von Mexiko, 1992; K. Ratz, M. und Juárez, 2 vols., 1998.
---