Marcus, Siegfried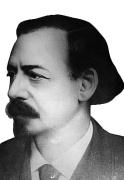 © Copyright
Siegfried Marcus, photo
---
Marcus, Siegfried, b. Malchin (Germany), Sept. 18, 1831, d. Vienna, June 30, 1898, mechanic and inventor. From 1852 in Vienna; 1860 owned a mechanic's shop and built a combustion engine and automobiles at the same time as N. Otto in Germany. On June 21, 1864 took out a privilege for an electromagnetic ignition system, on March 30, 1865 for a carburettor. He mounted the first two-stroke petrol engine on a wooden hand waggon, which can be proved by an authentic photograph from 1870 (with autograph description of Marcus). His second automobile (owned by the Austrian Automobile Club, ÖAMTC) was first operational in 1888. The wooden automobile has a horizontally mounted four-stroke single-cylinder engine with a spray-brush carburettor and magneto ignition and an output of up to 0.55 kW (0.75 HP). M. took out more than 38 patents in the fields of combustion engines, telegraphy, gas engineering and electrical engineering.
---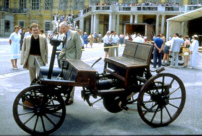 © Copyright
The second Marcus Automobile 1875, Photo 1988.
---
Literature: A. Buberl, Automobile. Die bewegte Geschichte des Straßenfahrzeuges, 1991; A. Buberl, Die Automobile des Siegfried Marcus, 1994; H. Grössing (Hg.), Autos-Fahrer-Konstrukteure. Automobilismus im Aufbruch, 2000; N. Böttcher, Siegfried Marcus. Bedeutender Ingenieur und vielseitiger Erfinder, 2005.
---