Knoflacher, Hermann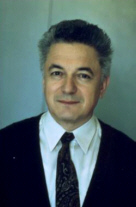 © Copyright
Hermann Knoflacher. Photo, 1995.
---
Knoflacher, Hermann, b. Villach (Carinthia), Sept. 21, 1940, civil engineer. Since 1975 professor at the Vienna University of Technology (formerly Technische Hochschule), since 1985 head of the Department of Traffic Planning and Traffic Engineering at this institution. Was assistant to F. Bitzl, the founder of accident research; fought for the compulsory use of seat belts; established a traffic development scheme for Vienna based on a "green city concept".
---
Works: Katalysatoren für Nichtmotorisierte, 1985; Verkehrsplanung für den Menschen, 1987; Fußgeher- und Fahrradverkehr, 1995; Zur Harmonie von Stadt und Verkehr, 1996; Landschaft ohne Autobahnen, 1997.
Literature: H. J. Zukal (ed.), Verkehrsplanung - über den Tellerrand geblickt, Festseminar Prof. K. zum 60. Geburtstag, 2000.
---