Hollein, Hans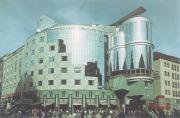 © Copyright
Hans Hollein, Haas-Haus in the 1st district of Vienna
---
Hollein, Hans, b. Vienna, March 30, 1934, architect. He studied at the Academy of Fine Arts in Vienna under C. Holzmeister, at IIT Chicago and at the University of California, Berkeley. 1963/64 and 1966 guest professor at Washington University, 1967-1976 professor at the Academy of Fine Arts in Düsseldorf, since 1976 professor at the Hochschule für angewandte Kunst (now University of Applied Arts) in Vienna. One of the pioneers of postmodern architecture; his design is based on graphic-semantic, anti-typological and anti-structural forms. Defines architecture as contextual art, as research and comment. Sculptural elements appear in various forms in his buildings. Also designed exhibitions, e.g. "Die Türken vor Wien" (1983) and "Traum und Wirklichkeit" (1984). 1978-1990 Austrian Commissioner for Art, 1991-1996 presided at the Architecture Biennale in Venice (Italy). Awards include the Grand Austrian State Prize 1983, the Pritzker Architecture Prize 1985 and the Austrian Decoration for Science and Art 1990.
---

© Copyright
Hans Hollein. Photo, 1990.
---
Projects: candle shop Retti, Vienna, 1964-1666; R. Feigen Gallery, New York, 1969; interior design for Siemens AG, Munich, 1970-1975; jeweller's shop Schullin I, 1972-1974, and II, 1984, in Vienna; primary school building in Köhlergasse, Vienna, 1979-1990; city villa Rauchstraße, Berlin (IBA), 1983-1984; Austrian Tourist Office, Vienna, 1980; Municipal Museum Mönchengladbach, 1972-1982 (extension 1996-1998); Museum of Modern Art Frankfurt am Main, 1983-1991; Haas-Haus, Vienna, 1985-1990; designs for Guggenheim-Museums in Salzburg (1990) and Vienna (1993-1994); Banco Santander (management offices), Madrid, 1988-1993; Erste Allgemeine Generali (provincial headquarters), Bregenz, 1987-1993; Shed-Halle at St. Pölten, 1992-1996 (museum under construction); business premises Zumtobell, Vienna, 1995-1996; Interbank, Lima, 1996-2001; elementary school Donau-City, Vienna, 1997-1999; Generali-Tower, Vienna, 1997-2001; Austrian Embassy Berlin, 1997-2001; Mount Auburn Street, Cambridge, USA, 1999-2001; Vulcania, Volcano Museum Auvergne, 1997-2002; Centrum Bank, Vaduz, 1997-2002.
Literature: G. Pettena, H. H., 1987; F. Blohmensacht, H. H., 1989; A. Haller (ed.), H. H., exhibition catalogue, Historisches Museum der Stadt Wien, 1995; S. Krämer, Die postmoderne Architekturlandschaft. Museumsprojekte von J. Stirling und H. H., 1998.
---