Ficker, Heinrich von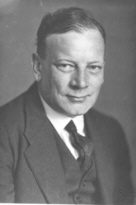 © Copyright
Heinrich Ficker. Photo, around 1925.
---
Ficker, Heinrich von, b. Munich (Germany), Nov. 22, 1881, d. Vienna, April 29, 1957, meteorologist, geophysicist; son of Julius von Ficker, brother of Ludwig von Ficker and Rudolf von Ficker. Professor at the University of Graz, 1923 professor of meteorology at Berlin University, from 1937-1953 professor at the University of Vienna and head of the Central Institute of Meteorology and Geodynamics (Zentralanstalt für Meteorologie und Geodynamik), 1946-1951 president of the Austrian Academy of Sciences. balloon flights in the Alps and expeditions to the Caucasus and to Central Asia.
---
Works: Wetter und Wetterentwicklung, 1932; Föhn und Föhnwirkungen, 1943.
Literature: NDB.
---