Cellini-Salzfass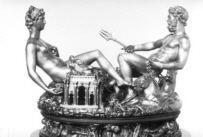 © Copyright
Cellini salt-cellar, 1540-1543
---
Cellini salt-cellar, the only still existing fully authenticated goldsmith's work by Benvenuto Cellini (b. Florence, around 1500, d. Florence, 1571), late Renaissance style, 1540-1543 made for Francis I of France, given by Charles IX to Archduke Ferdinand II (of Tyrol) and so came into the possession of Habsburgs. Today in the Vienna Museum of Art History.
---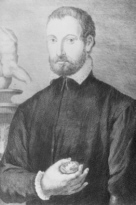 © Copyright
Benvenuto Cellini (1500-1571), engraving
---
Literature: A. Prater, C. Salzfaß für Franz I, 1988.
---