Abel, Othenio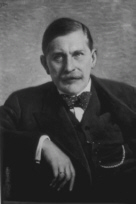 © Copyright
Othenio Abel, photo around 1925
---
Abel, Othenio, b. Vienna, June 20, 1875, d. Mondsee (Upper Austria), July 4, 1946, together with Louis Dollo pioneered the field of paleobiology studying the life and environment of fossilized organisms; 1917-1934 university professor in Vienna, later head of the Institute of Paleontology at the University of Göttingen; explored the Drachenhöhle at Mixnitz.
---
Publications: Grundzüge der Paläobiologie der Wirbeltiere, 1912; Lehrbuch der Paläozoologie, 1920; Die Drachenhöhle bei Mixnitz, 1931; Vorzeitliche Lebensspuren, 1935; Das Reich der Tiere, 1939.
Literature: K. Ehrenberg, O. A. Lebensweg, 1975.
---