Wotruba, Fritz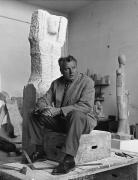 © Copyright
Fritz Wotruba in his studio. Photo.
---
Wotruba, Fritz, b. Vienna, April 23, 1907, d. Vienna, Aug. 28, 1975, one of the most influential sculptors of the 20th century. Trained as an engraver from 1921-1924; student of A. Hanak at the Vienna Academy of Fine Arts; fled to Switzerland in 1938, where he stayed until 1945. After his return, he became Professor at the Vienna Academy of Fine Arts. Represented Austria at the Biennale Festival in Venice in 1948 and 1952. In his early years sculptured his representations of human beings according to realistic principles (e.g. "Denkmal der Arbeit" at Donawitz, in 1932). After 1945 increasingly combined archaic with cubist elements, using the elementary block structure of stone, his preferred material, as a basic means of expression (e.g. "Sitzende Figur", 1949, Museum of Modern Art Ludwig Foundation, Vienna). From the 1950s sculptured various monuments for public places (e.g. Wagner monument, 1969, Mainz; "Große liegende Figur", 1971, Rotterdam), created reliefs and busts adjusted to the requirements of different kinds of buildings, worked for the stage (from 1948-1967 in Vienna, at the Salzburg Festival, in Athens and Berlin) and occupied himself intensively with graphic arts. From 1974-1976 a church dedicated to the Holy Trinity ("W.-Church") was erected according to his designs at Vienna-Mauer (had worked on the plans from 1967). Both as an artist and long-standing teacher at the Vienna Academy, W. made Austrian sculpture internationally known after 1945 ("W.-School"). Among his pupils were many outstanding sculptors such as H. Leinfellner, J. Pillhofer, A. Urteil, J. Avramidis and A. Hrdlička. Awarded the Grand Austrian State Prize in 1958 and the Austrian Decoration for Science and Art in 1871.
---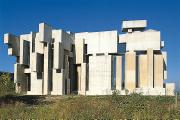 © Copyright
Fritz Wotruba, Church of the Holy Trinity in the 23rd district of Vienna, 1974-1976.
---
Literature: Hommage à W., exhibition catalogue, Vienna 1985; F. W. Druckgraphik 1950-1975, exhibition catalogue, Vienna 1989; F. W. Der Bildhauer als Bühnenbildner, exhibition catalogue, Bremen 1992; F. W., exhibition catalogue, Zurich 1992; O. Breicha, F. W. Figur als Widerstand, 21995; A. Pistorius, F. W. Das szenische Werk, 1995; M. Haldemann (ed.), Dialog mit der Moderne. F. W. und die Sammlung Kamm, exhibition catalogue, Zug 1998; P. v. Kraft, F. W. Studien zu Leben und Werk, 1999; NÖB.
---
References to other albums:

---