Watt, Joachim auch J. Vadianus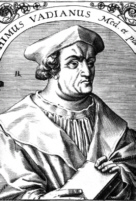 © Copyright
Joachim Watt, engraving, 19th century
---
Watt, Joachim (also J. Vadianus), b. St. Gallen (Switzerland), Nov. 29, 1483 or 1484, d. St. Gallen (Switzerland), April 6, 1551. Humanist and physician. Came to Vienna in 1502. After the death of K. Celtis in 1508 became leading humanist; 1508-1517 teacher of Poetics at the University of Vienna. Crowned poet laureate by Maximilian I in Linz in 1514. Returned to St. Gallen in 1518, where he worked as a physician and mayor and carried out Zwingli's reformation.
---
Works: De poetica et carminis ratione liber, 1518; Die Große Chronik der Äbte des Klosters St. Gallen, 1529.
Literature: W. Näf (ed.), Vadianstudien, 7 vols., 1945-1962.
---