Vordernberg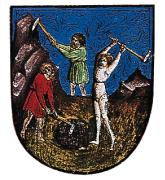 © Copyright
Vordernberg: Coat of arms from the coat of arms´ letter of 1516.
---
Vordernberg, Styria, market town in the district of Leoben, alt. 839 m, pop.1,832 (1981: pop. 2,109), area 27.74 km2, located at the eastern foot of the Eisenerz Alps, near the Präbichl Paß (alt. 1,232 m). - Barbarasäle (ballrooms); emphasis on tourism; information centre of the Styrian Eisenstraße road (association of several towns and villages along the Eisenstraße road from Niklasdorf to Altenmarkt which, for instance, arranges tours of old hammer mills, open air museums, etc.). - From the Middle Ages until the end of the 19th  century centre of iron smelting, in 1840 foundation of the forerunner of the Leoben University of Mining and Metallurgy; around 1850 more than 200 hammer mills. The last blast furnaces were put out of operation in 1921/1922. Old wheelworks (originally 14; wheelwork no. 3 with oldest preserved steam blower; wheelwork no. 4 dates back to 1846, has been converted into a museum). Even today, the remaining buildings of the former ironworks are amongst the most characteristic features of the town. - Assumption parish church (expanded in 1644 and in 1661) with St. Mary´s altar from 1715 and pulpit with reliefs (1765); Gothic church of St. Laurentius (former fortified church, around 1453, renovated at the end of the 19th  century) with Gothic frescoes and 2 stone reliefs (around 1510-1515, now copies); Trinity column (1717); town hall (16th and 17th  centuries, hall with stucco ceiling); ancient Gewerkenhäuser (mineowner´s houses, most of them dating back to the 17th  century (Prinzen-Amtshaus, Erzherzog-Johann-Haus, Steyrer Gewerkenhaus with stucco ceiling, etc.).
---
Literature: W. Schuster, Vordernberg und seine technischen Denkmale, 1978; H. J. Köstler, Führer durch Vordernberg und seine montanhistorischen Stätten, 1995.
---