Schönerer, Georg Ritter von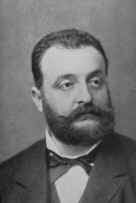 © Copyright
Georg Ritter* von Schönerer. Photo, around 1910.
---
Schönerer, Ritter* Georg von (until 1888), b. Vienna, July 17, 1842, d. Schloss Rosenau (municipality of Zwettl, Lower Austria), Aug. 14, 1921. Landowner, politician. From 1879 leader of the deutschnationale Bewegung (the Pan-German Party) in Austria; fierce enemy of Austrian patriotism, the Catholic Church and liberalism. Was a radical supporter of Anti-Semitism, advocated close connections between Austria and the German Reich, was a pioneer of the anti-Catholic Los-von-Rom-Bewegung and converted to Protestantism himself. His politics were characterised by his autocratic and terrorist methods and his nationalist fanaticism. His ideas later strongly influenced the young A. Hitler. In 1882 S. played a main part in the drafting of the German nationalist Linz Programme. Acts of violence against political enemies resulted in his being imprisoned and deprived of his title, his rank as a reserve officer and his parliamentary seat, which he regained in 1897 (until 1907). Initially, his policies also influenced K. Lueger, E. Pernerstorfer and V. Adler, who later rejected his views because of his radicalism. His main supporters ("Schönerians") were to be found among nationalist fraternities (Burschenschaften) and people from the Sudetenland. His political organs were the magazine "Unverfälschte deutsche Worte" (1890-1912) and the papers "Alldeutsches Tagblatt" and "Grazer Wochenblatt".
---
Works: 12 Reden, 1886; 5 Reden, 1891.
Literature: Herwig (= E. Pichl), G. S., 4 vols., 1913-1923 (6 vols., 21938); E. V. Rudolf, G. S., 1936; A. G. Whiteside, G. Ritter v. S. Alldeutschland und sein Prophet, 1981.
---