Pettenkofen Pettenkofer, August von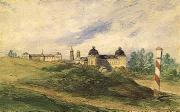 © Copyright
August von Pettenkofen, Auf dem Weg zum Stift Klosterneuburg, water colour (Historisches Museum der Stadt Wien)
---
Pettenkofen (Pettenkofer), August von, b. Vienna, May 10, 1822, d. Vienna, March 21, 1889, painter of landscapes and illustrator. Student of L. Kupelwieser at the Vienna Academy and of F. Eybl. Initially a portraitist and genre painter, took part in the Hungary campaign in 1849 as a war painter, then regularly stayed in Szolnok and painted landscapes. 1852 journey to Paris, contact with the school of Barbizon, developed into an important pleinair painter; between 1870 and 1880 almost annual trips to Venice. Had a lasting influence on Austrian landscape painting, founder of the Szolnok school of painting.
---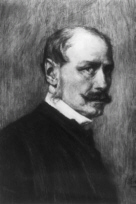 © Copyright
August von Pettenkofen, painting by F. Lenbach
---
Literature: A. Weixlgärtner, A. P., 2 vols., 1916; C. Strasser, A. von P. (1822-1889). Die Szolnoker Bilder, doctoral thesis, Salzburg 1983; ÖBL.
---