Jürgens, Curd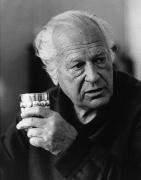 © Copyright
Curd Jürgens, photo
---
Jürgens, Curd, b. Munich (Germany), Dec. 13, 1915, d. Vienna, June 18, 1982, (film) actor. Acting classes in Munich and Berlin, then performed at various theatres in Berlin, 1938-1941 member of the Vienna Volkstheater company, 1941-1953 and 1965 engagement at the Vienna Burgtheater, 1973-1977 "Jedermann" at the Salzburg Festival. Discovered as a film actor by W. Forst, made approximately 160 films between 1936 and 1979. In 1955, honoured at the Venice Film Festival for the leading part in H. Käutner's "Des Teufels General"; internationally known for several Hollywood productions (amongst others "The Blue Angel", 1959; "The Royal Game", 1960). Awarded the Kainz Medal in 1966.
---
Work: ... und kein bißchen weise, 1976 (autobiography).
Literature: M. Jürgens, C. J. Wie wir ihn sahen, 1985.
---