Hrdlička, Alfred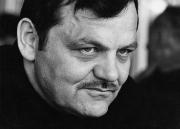 © Copyright
Alfred Hrdlicka. Photo.
---
Hrdlička, Alfred, b. Vienna, Feb. 27, 1928, sculptor and graphic artist. 1946-1957 studied at the Academy of Fine Arts in Vienna with A. P. Gütersloh, J. Dobrowsky und F. Wotruba. In spite of the general trend towards abstract art H. has consistently kept his pictorial-expressive style and has repeatedly provoked public discussions with his political comments and social criticism. In 1964 he represented Austria at the Biennale in Venice. Professor in Stuttgart (1971-1973, 1975-1986), Hamburg (1973-1975), Berlin (1986-1989) and Vienna (from 1989). In the years 1988-1991 H. erected the Memorial against War and Fascism at the Vienna Albertinaplatz in the first district, on the site of the Philipphof, which had been destroyed in 1945.
---
Works: Gekreuzigter, 1959; Porträt O. Kokoschka, 1963; bust of Dr. Karl Renner, Vienna, 1967; monument to F. Engels, Wuppertal 1981; bronze frieze about the serial killer F. Haarmann in Hannover, 1991; memorials against War and Fascism in Hamburg and Vienna. - Etching cycles: Martha Beck, 1963; Die Schlacht auf den Katalaunischen Feldern, 1964; Haarmann, 1965/66; Randolectil, 1968.
Literature: M. Lewin (editor), A. H., Das Gesamtwerk, 3 vols., 1987-1992; K. Klemp (ed.), A. H. Skulpturen, Zeichnungen, Druckgraphik 1945-1997, exhibition catalogue, Frankfurter Kunstverein, 1997.
---