Hammer-Purgstall, Joseph Freiherr von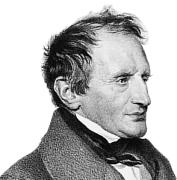 © Copyright
Baron Joseph von Hammer-Purgstall. Lithograph by J. Kriehuber.
---
Hammer-Purgstall, Baron Joseph von, b. Graz (Styria), June 9, 1774, d. Vienna, Nov. 23, 1856, orientalist. Court interpreter, ambassador in the Orient, especially in Constantinople, from 1807 in the Imperial Office in Vienna. greatly respected as an expert on the customs of the Islamic parts of the Orient. His magazine "Fundgruben des Orients" (6 vols., 1809-1818) and his imitations of Oriental poetry ("Diwan des Hafis", 1812 and others) introduced medieval Oriental literature to Europe and inspired J. W. von Goethe's "West-östlicher Diwan". Famous for his history of the Ottoman empire, "Geschichte des Osmanischen Reiches" (10 vols., 1827-1833) and the award-winning "Über die innere Länderverwaltung unter dem Chalifate" ("On the Administration of the Interior of the Califate", 1835). Supported the foundation of the Austrian Academy of Sciences in Vienna and became the Academy's first president (1847-1849). The Austrian Orient society "Österreichische Orient-Gesellschaft H.-P." is named after him. It was founded in 1959 by A. Weikert to foster cultural relations with the Near East and to attend to the needs of university students from the Near East studying in Austria.
---
Further Works: Encyklopädische Übersicht der Wissenschaften des Orients aus 7 arabischen, persischen and türkischen Werken übersetzt, 2 vols., 1804; Geschichte der osmanischen Dichtkunst, 4 vols., 1827-1835; Literaturgeschichte der Araber, 7 vols., 1850.
Literature: W. Bietak, Gottes ist der Orient, 1945; C. Bucher, J. v. H.-P., doctoral thesis, Vienna 1949; S. Reichl, H.-P. Auf den romantischen Pfaden eines österreichischen Orientforschers, 1973.
---