Genée, Richard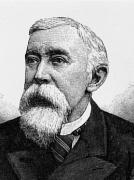 © Copyright
Richard Genée. Engraving.
---
Genée, Richard, b. Danzig (Poland), Feb. 7, 1823, d. Baden (Lower Austria), June 15, 1895, librettist, composer, conductor. 1868-1878 musical director at the Theater an der Wien; wrote numerous libretti, some of them in collaboration with C. Walzel, for F. von Suppé ("Boccaccio", 1879), J. Strauß ("Die Fledermaus", 1874; "Cagliostro in Wien", 1875; "Das Spitzentuch der Königin", 1880; "Eine Nacht in Venedig", 1883) and K. Millöcker ("Der Bettelstudent", 1882).
---
Further works: Operas: Der Geiger von Tirol, 1857; Rosita, 1864; operettas, songs, choral music.
Literature: F. Schwarz, R. G., 1941; A. Bauer, 150 Jahre Theater an der Wien, 1952; B. Hiltner-Hennenberg, R. G. Eine Bibliographie, 1998.
---