Freud, Sigmund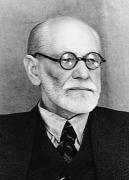 © Copyright
Sigmund Freud, photo, 1938
---
Freud, Sigmund, b. Příbor, Czech Republic (then Freiberg), May 6, 1856, d. London (United Kingdom), Sept. 23, 1939, neurologist, physician; founder of psychoanalysis, the theory of the unconscious mind. Father of Anna Freud. From 1876-1882 worked at the Vienna Physiological Institute of E. W. von Brücke and under T. Meynert and became lecturer of neuropathology in 1885. Conducted research on the narcotic and anaesthetizing properties of cocaine and thus initiated further developments in the field of local anaesthesia. In 1885/86 he studied the technique of hypnosis and problems originating from hysteria under J. M. Charcot in Paris, and under Liébault and Bernheim in Nancy in 1889. Became associate professor in 1902 and was awarded the Goethe Prize in 1930. Had to emigrate to London in 1938.
In Vienna F.'s research was at first based on J. Breuer's "cathartic-therapeutic" method. However, he soon replaced Breuer's method of cure based on hypnosis by his own psychoanalytic method of treatment, known as the technique of free association (repressed unpleasant experiences and memories are brought into consciousness). He focused on the general idea that experiences during childhood constitute the reason for the development of certain mental illnesses.
F.'s psychoanalytic theory provided the basis for modern depth psychology and psychotherapy and led to the evolution of further concepts, such as A. Adler's individual psychology, C. G. Jung's complex psychology, W. Stekel's theory. Psychoanalysis, which started as a theory of drives, developed into a comprehensive theory of the overall personality of the human being. His ideas and work not only influenced modern psychology, particularly in the Anglo-American world, but also had effects on other fields of cultural life, such as aesthetics, theology, literature and ethnology. F. was also a notable author.
In 1971 a museum was established in his home in the 9th district of Vienna, Berggasse 19.
---
Works: Studien zur Hysterie, 1895, together with J. Breuer (Studies in Hysteria, 1955); Die Traumdeutung, 1900 (The Interpretation of Dreams, 1953); Zur Psychopathologie des Alltagslebens, 1901 (Psychopathology of Everyday Life, 1960); Der Witz und seine Beziehung zum Unbewußten, 1905; 3 Abhandlungen zur Sexualtheorie, 1905 (Three Essays on the Theory of Sexuality, 1953); Vorlesungen zur Einführung in die Psychoanalyse, 1917 (A General Introduction to Psychoanalysis, 1920); Jenseits des Lustprinzips, 1920 (Beyond the Pleasure Principle, 1955); Das Ich und das Es, 1923 (The Ego and the Id, 1961); Die Zukunft einer Illusion, 1927 (The Future of an Illusion, 1961); Das Unbehagen in der Kultur, 1930 (Civilization and Its Discontents, 1961).- Editor of the magazine Imago, from 1912; Jahrbuch der Psychoanalyse, from 1913; Internat. Zeitschrift für Psychoanalyse, 1913; The International Journal of Psychoanalysis, 1919. - Edition: Studienausgabe, ed. by A. Mitscherlich et al., 12 vols., 1969.
Literature: E. Ludwig, Der entzauberte F., 1946; E. Jones, Leben und Werk von S. F., 3 vols., 1960-62; P. Gay, F., 1989; H. Kätzel, S. F., ein biograph. Essay, 1992; P. Roazen, S. F. und sein Kreis, 1997; H.-M. Lohmann, S. F., 1998; O. Hejlek, S. F. für Einsteiger, 1999; P. Schneider, S. F., 1999; R. Speziale-Bagliacca, S. F. Begründer der Psychoanalyse, 2000.
---