Exner-Ewarten, Felix Maria von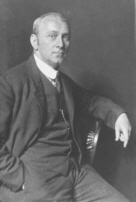 © Copyright
Felix Maria von Exner-Ewarten. Photo, around 1910.
---
Exner-Ewarten, Felix Maria von, b. Vienna, Aug. 23, 1876, d. Vienna, Feb. 7, 1930, meteorologist, son of Siegmund von Exner-Ewarten; 1904 lecturer at the University of Vienna, 1910 professor of cosmic physics at the University of Innsbruck, 1917 professor of geophysics at the University of Vienna and 1917-1930 head of the Central Institute of Meteorology and Geodynamics (Zentralanstalt für Meteorologie und Geodynamik in Vienna; research especially on dynamic meteorology and on the application of mechanics to geographical phenomena .
---
Works: Dynamische Meteorologie, 21925; Gravitationswellen und Atmosphäre, 1926.
Literature: ÖBL; NDB.
---