Spitzer, Daniel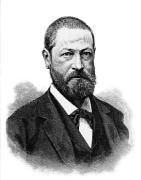 © Copyright
Daniel Spitzer, xylograph
---
Spitzer, Daniel, b. Vienna, July 3, 1835, d. Meran/Merano (South Tyrol), Jan. 11, 1893, feature writer, satirist, narrative writer and lawyer. Worked for the illustrated humorous magazine "Fliegende Blätter" (Munich), the political satirical weekly magazine "Kladderadatsch" (Berlin) and the Viennese satirical magazine "Figaro". Best known for his humoristic and satirical articles "Wiener Spaziergänge" (6 vols., 1869-1886), which were published first in the "Presse" newspaper, then in the "Deutsche Zeitung" newspaper and finally, in 1873, in the "Neue Freie Presse" newspaper, where he held a position on the editorial staff. Opposed political and social abuses.
---
Further works: Das Herrenrecht, 1877; Verliebte Wagnerianer, 1880. - Editions: Gesammelte Schriften, ed. by M. Kalbeck and O. E. Deutsch, 4 vols., 1912-1914; Meisterfeuilletons, 1991.
Literature: W. Langenbucher (ed.), Sensationen des Alltags, 1992; M. Nöllke, D. S. "Wiener Spaziergänge", 1994.
---