Schönwiese, Ernst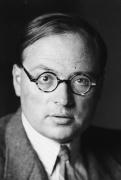 © Copyright
Ernst Schönwiese. Photo, 1936.
---
Schönwiese, Ernst, b. Vienna, Jan. 6, 1905, d. Vienna, April 4, 1991, writer, author of radio plays and translator. 1928-1938 lecturer at the Adult Education Centres in Vienna; 1935-1937 and 1946-1952 publisher of the literary magazine "das silberboot". Emigrated in 1938, director of the literary department of the Rot-Weiß-Rot radio station in Salzburg 1945-1954, programme director for literature, radio plays and science at the Austrian broadcasting corporation (ORF) 1954-1971, president of the Austrian P. E. N. Club 1972-1978. Awarded the Austrian Decoration for Science and Art in 1977.
---
Works: Numerous collections of poems, essays, radio plays, translations.
Literature: J. P. Strelka (ed.), E. S, 1986.
---