Rudigier, Franz Joseph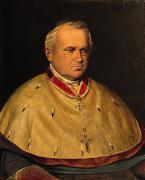 © Copyright
Franz Joseph Rudigier. Painting, 19th century (monastery of Schlägl, Upper Austria).
---
Rudigier, Franz Joseph, b. Partenen (Vorarlberg), April 6, 1811, d. Linz (Upper Austria), Nov. 29, 1884, from 1853 bishop of Linz. Teacher of Emperor Franz Joseph and of Maximilian of Mexico; 1845 director of the Frintaneum, an institute of higher education for priests in Vienna, initiated the construction of Linz Cathedral (he is buried in the lower church); following his pastoral letter on laws concerning schools, marriage and confession was sentenced to 14 days imprisonment in 1869, pardoned by the emperor one day later. Founded branches of his order in Upper Austria, the Volksverein (an association promoting Catholicism), the Catholic press association and several regional weekly papers. Beatification procedure started in 1895.
---
Literature: R. Zinnhobler (ed.), Die Bischöfe von Linz, 1985; P. Gradauer, H. Slapnicka and R. Zinnhobler, Bischof F. J. R., 1987; A. Nodes, Ein Kirchenmann in Konfrontation. R. J. R., master's thesis, Vienna 1998.
---