Rintelen, Anton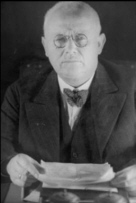 © Copyright
Anton Rintelen. Photo, 1930.
---
Rintelen, Anton, b. Graz (Styria), Nov. 15, 1876, d. Graz (Styria), Jan. 28, 1946, law scholar and politician (Christian socialist party). Before World War I worked at universities, e.g. 1903-1911 professor at the German University in Prague, where he was involved in the "Wahrmund affair", 1911 professor of civil jurisdiction in Graz; 1918 elected deputy Landeshauptmann of Styria by the Christian Socialists, 1919-1926 and 1928-1933 Landeshauptmann, 1926 and 1932-1933 Federal Minister of Education. 1920-1923 member of the Bundesrat, 1927-1930 and 1931-1934 member of the Nationalrat. In 1933 appointed envoy to Rome, conspired with the National Socialists, on the occasion of the July Putsch of 1934 was pronounced Federal Chancellor by the rebels, for which he was found guilty of high treason and sentenced to life imprisonment in 1935, released in 1938, but no longer played an active role in politics.
---
Works: Erinnerungen an Ö. Weg, 1941. - Legal publications.
Literature: D. A. Binder, Dollfuß und Hitler, doctoral thesis, Graz 1974; ÖBL.
---