Pfeiffer, Ida geborene Reyer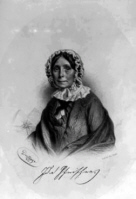 © Copyright
Ida Pfeiffer, lithograph by A. Dauthage, 1855
---
Pfeiffer, Ida (née Reyer), b. Vienna, Oct. 14, 1797, d. Vienna, Oct. 27, 1858, first woman of the Biedermeier era to travel and explore the world, writer of travel books. At the age of 45 started an independent life as a traveller and explorer: 1842 in the Orient, 1846-1848 in Brazil, in the Society Islands and Tahiti, in Hong Kong and Sri Lanka; 1851 undertook her 2nd world tour (South Africa - Java - San Francisco - Vienna); her 3rd world tour led her to Madagascar in 1856, where she was kept prisoner for a long time and became infected with a fatal disease. P. travelled alone and brought back extensive ethnological and zoological collections for Vienna and London.
---
Works: Reise einer Wienerin in das Hl. Land, 2 vols., 1833; Eine Frauenfahrt um die Welt, 3 vols., 1850; Meine 2. Weltreise, 4 vols., 1856; Reise nach Madagaskar, 2 vols., 1861 (ed. by her son Oskar P.).
Literature: E. Donner, Und nirgends eine Karawane. Die Weltreisen der I. P. (1797-1858), 1997; G. Habinger, Eine Wr. Biedermeierdame erobert die Welt. Die Lebensgeschichte der I. P. (1797-1858), 1997; ÖBL.
---