Nedbal, Oskar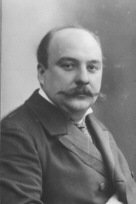 © Copyright
Oskar Nedbal. Photo, 1910.
---
Nedbal, Oskar, b. Tábor (Czech Republic), March 26, 1874, d. Zagreb, Croatia (then Agram), Dec. 24, 1930 (suicide), conductor and composer. Conducted the Bohemian Philharmonic in Prague 1896-1906, founded the Wiener Tonkünstlerorchester in 1906, its director until 1919, temporarily kapellmeister at the Volksoper in Vienna, after that a guest conductor abroad. His greatest success as a composer was with his operettas. His operetta "Polenblatt" (1913) was performed in Vienna 3376 times from its première until 1926.
---
Other works: Der faule Hans (ballet pantomime), 1902; Der Bauer Jakob (comic opera), 1922. - Operettas: Die Winzerbraut, 1916; Die schöne Saskia, 1917; Eriwan, 1918; Donna Gloria, 1926. - Chamber and orchestral music; lieder.
Literature: ÖBL.
---