Mendel, Gregor eigentlich Johann Mendel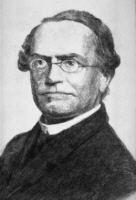 © Copyright
Gregor Mendel, lithograph around 1870
---
Mendel, Gregor (real name: Johann M.), b. Hynčie, Czech Republic (then Heinzendorf), July 22, 1822, d. Brno, Czech Republic (then Brünn), Jan. 6, 1884, prior of the Augustinian order, botanist. In 1865, after 8 years of crossbreeding varieties of the garden pea, discovered the basic laws of heredity, known as Mendel´s laws, and still valid today. In the same year he published his results at the Natural Science Society in Brünn (Brno). They were disregarded for almost 40 years, until they were rediscovered by E. Tschermak-Seysenegg, H. de Vries and C. Correns. Much later Mendel´s laws were confirmed by the chromosome theory of genetics.
---
Work: Versuche über Pflanzenhybriden, 1866.
Literature: J. G. Mendel, exhibition catalogue, Vienna 1984; V. Orel, G. M. The First Geneticist, 1996; NDB.
---