Lieben, Adolf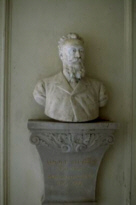 © Copyright
Adolf Lieben. Portrait bust in the arcade courtyard of the University of Vienna.
---
Lieben, Adolf, b. Vienna, Dec. 3, 1836, d. Vienna, June 6, 1914, chemist. Uncle of Robert von Lieben. Studied in Vienna and Heidelberg, 1863-1871 lectureships in Italy, then in Prague; 1875-1906 professor of chemistry at the University of Vienna. Together with L. Barth zu Barthenau established the periodical "Monatshefte für Chemie". Worked mainly in the field of organic chemistry (aliphatic oxo-compounds) and discovered the jodoform reaction as described by Lieben.
---
Publication: Über die Condensation der Aldehyde, 1901.
Literature: Z. J. Skraup (ed.), A. L. zum 50jähr. Doktorjubiläum, 1906; ÖBL; NDB.
---