Kreil, Carl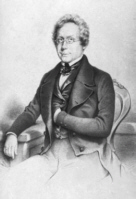 © Copyright
Carl Kreil, lithograph by L. Berka, 1849
---
Kreil, Carl, b. Ried im Innkreis (Upper Austria), Nov. 4, 1798, d. Vienna, Dec. 21, 1862 meteorologist. From 1851-1862 Head of the Central Institution of Meteorology and Geomagnetism (Zentralanstalt für Meteorologie und Geodynamik) in Vienna. Research in the field of geomagnetism, invented barometrographs, thermographs and hydrographs.
---
Works: Über die Natur und Bewegung der Kometen, 1843; Über den Einfluß der Alpen auf die Äußerung der magnetischen Erdkraft, 1850.
Literature: ÖBL; NDB.
---