Kernstock, Ottokar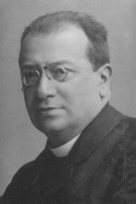 © Copyright
Ottokar Kernstock. Photo, 1910.
---
Kernstock, Ottokar, b. Maribor, Slovenia (then Marburg), July 25, 1848, d. Festenburg (municipality of St. Lorenz am Wechsel, Styria), Nov. 5, 1928, priest, researcher, patriotic German national poet. Wrote the text for the song "Kaiserlied", which became the national anthem in 1929/30, war poetry and the Swastika Song for the Fürstenfeld National Society group. Although he dissociated himself from National Socialism, the Nazi regime used the Swastika Song after K.'s death for its propaganda.
---
Literature: M. Liebmann, O. K. und sein Hakenkreuzgedicht, in: Campus f. das Fürstenfelder Kulturmagazin 22, 1993; the same, O. K., der mißbrauchte Dichter, in: Ztschr. d. Hist. Vereins f. Stmk., vol. 85, 1994; J. Steinbauer, "Markig und feierlich". Eine Geschichte der Bundeshymnen der Republik Ö., master's thesis, Graz 1993.
---