Czyhlarz, Karl von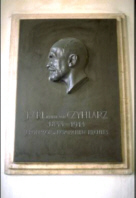 © Copyright
Karl von Czyhlarz. Relief portrait in the courtyard of the University of Vienna.
---
Czyhlarz, Karl von, b. Lovosice, Czech Republic (then Lobositz), Aug. 17, 1833, d. Vienna, July 21, 1914, legal scholar. 1892-1905 professor of Roman law at the Universities of Prague and Vienna; member of the Upper Chamber of the Reichsrat.
---
Publication: Lehrbuch der Institutionen des römischen Rechts, 1889.
Literature: ÖBL.
---