"Prater - Lusthaus Water" from the series "Austria's Natural Beauty"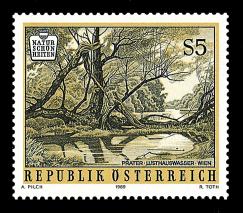 Date of issue: September 1, 1989
Face value: AS 5
Commemorative stamp

---
"Prater", the precious area of green in the heart of Vienna, looks back on a rich tradition. Its oldest reference is found in a decree of Frederick I issued on July 2, 1162 in Bologna in which a non-feudatory estate "quod dicitur Pratum" is granted to "Conradus, qui dicitur Prato". In the ensuing ages monasteries, religious orders, and various high-ranking individuals occupied parts of Prater as a feudal estate. In 1560, by gradually dissolving these grounds from their feudal owners, Maximilian II set about to acquire for himself a comfortably-situated hunting ground. Prater remained an exclusive hunting ground of aristocracy through to the time of Emperor Joseph II, who broke with this tradition and made Prater accessible to the general public through the declaration of April 7, 1766. A milestone in the history of Prater was surely the 1873 World's Fair, from which two pavilions still remain. The regulation of the Danube Canal (1832) and the Great Danube Regulation (1870-1875) have indeed most decidedly characterized the visible image of today's recreation area. With the Lusthaus Water nestled within as shown on this stamp, Prater is home to numerous species of plants and animals which have found a lebensraum in Vienna's heart of green.
---
References to other albums:

| | |
| --- | --- |
| Encyclopedia of Austria: | Prater |